2017 Annual Bluegrass Elder Abuse Council Conference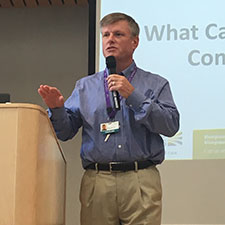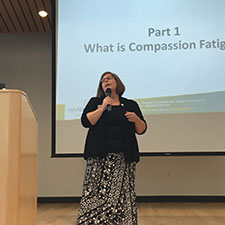 Caregiver Compassion Fatigue Presentation
David Carper, M.Div. BCC
A husband and father of two teenage daughters, Dave has been serving Bluegrass Care Navigators as a hospice chaplain for the past 10 years. He has a passion for the human spirit and providing care for those that want to be heard and are in the midst of their suffering.
Carmen Conley, MSW, CSW
Carmen has worked for Bluegrass Care Navigators, formally known as Hospice of the Bluegrass, for the past 10 years, and is currently serving as the Counseling Supervisor for the Lexington office. She has over 20 years of healthcare experience, to include geriatric care management, nephrology, home health and hospice care. On a personal note, helping to care for her grand-parents while in graduate school sparked a passion for working in the medical field, providing care to patients and families through the disease and care-giving process.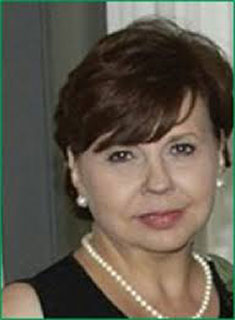 Resolving the Conflict of Elder Care
Dr. Dani Vandiviere, Ph.D, CAPS, CDRM, CDRMT, CEO, Trainer, Mediator
Dani Vandiviere is recognized as an effective mediator by both plaintiffs and defendants, giving her strong credibility with all involved in the conflict. They respect her practical expertise and ability to understand all the legal as well as the non-legal issues of a dispute and her ability to move the parties forward to a successful resolution.
Her background includes receiving her doctorate in Aging in Place which encompasses family relationships through the aging process from California State University school of Public Health and various certifications from University of Kentucky, Mediation Training in Louisville Kentucky, APICS, and National Association of Home Builders as well as several other schools and organizations. Dani will never stop learning.
Active in the community she is President of the Bluegrass Continuity of Care Association, a founding member of Kentucky Association of Senior Services, a member of the Kentucky Guardianship Association, the Kentucky Association for Gerontology and served on the planning board of the Challenges and Opportunities of Aging events. Dani is also a member of Society for Human Resource Management.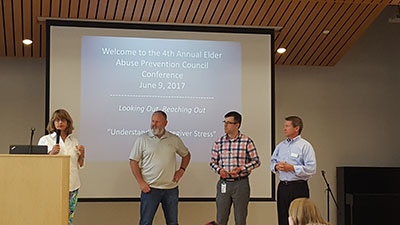 Cliff Bryant Presentation
Mary Houlihan, Director of Victim Services for the Fayette Commonwealth's Attorneys Office Det. Chris Russell, Lexington Police Department and 2015 recognition award recipient Cliff Byant, Adult Protective Services Supervisor and 2017 recognition award recipient Bill Hughes, Chairman of the Bluegrass Elder Abuse Prevention Council. — (Pictured at Right)
About Cliff Bryant
Cliff Bryant has been with Adult Protective Services for 8 years as of August of 2017. During that time, his strong work ethic, deep compassion and commitment to serving the most vulnerable in our community have earned him multiple promotions including becoming a supervisor (APS FSOS) for the last 3 ½ years. He has supervised the Fayette County and Southern Bluegrass Rural APS teams which included Clark, Madison, Estill, Powell, Jessamine, Garrard, Lincoln, Mercer and Boyle Counties. Previous to his work with APS, Cliff worked as a case manager for 7 years at a SCL (Supports for Community Living) facility where his passion and talent for taking on some of the most challenging cases was honed. Cliff is not only refuses to ignore the people that society often turns a blind eye to but he treats them with the same dignity and respect that he shows his co-workers and staff.
Cliff's breadth of knowledge of community services, governmental and courts systems and of the challenges faced by vulnerable adults make him a valuable asset on many multi-disciplinary committees. Often Cliff's excellence is rewarded by even more requests for assistance, but you would never know all he is juggling by his response to any challenge. Cliff does the kind of work that quietly makes a bigger impact on many more lives than most of us would ever guess. Perhaps the biggest reason that Cliff is deserving of this award is because he would always prefer the focus be put on the needs of others instead of himself. Today, we celebrate Cliff Bryant and his commitment to keeping seniors and vulnerable adults safe from harm and to improving our community response to the needs and challenges of its citizens.